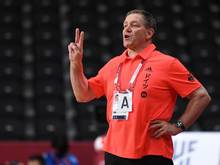 For Johannes Golla there are two reasons to celebrate this Friday.
In the morning the new leader of the German handball players will surely receive many congratulations on his 24th birthday, in the evening he will lead the DHB selection in the international match against Portugal in Luxembourg (8:15 p.m. / Sport1) for the first time as captain on the floor. "This is an exciting task that I am happy to take on and that will certainly help me advance personally," said the runner-up from German runner-up SG Flensburg-Handewitt on Thursday.
Within only two and a half years, Golla advanced from a newcomer to a leading figure, who should lead the German team back to medals through the phase of radical change that has been initiated and at the latest at the major home tournaments – EM 2024 and World Cup 2027. "Johannes has developed incredibly well in recent years. He has become a leader and regular player in Flensburg and has also shown in the DHB team that he has become a world-class player. He can give the team a lot – both in terms of performance and also through his character and his personal nature ", national coach Alfred Gislason justified his decision.
Golla combines "mentality and quality"
Golla has what it takes to become the face of the entire sport, like his predecessor Uwe Gensheimer. He has the necessary mentality and quality and is characterized by hard work and clear words. "He is a complete player who plays a central role in attack and defense. That is why he can advance in all phases of the game. He also always has an open ear and is intelligent enough to initiate and control conversations," praised him DHB sports director Axel Kromer the 1.95 meter tall giant.
On March 9, 2019, Golla made his debut against Switzerland in the DHB selection, for which he has scored 84 goals in 31 international matches so far. Despite his young age, the native of Hesse is one of the experienced players in the 18-man squad for the two Portugal internationals – the second comparison will be on Sunday in Düsseldorf. Because after the failure of the two injured Berlin backcourt players Paul Drux and Fabian Wiede as well as Kiel's circle runner Patrick Wiencek, who canceled for family reasons, seven debutants are in the squad.
Newly formed DHB selection
Gislason is looking forward to the new start. "We have incorporated the many newcomers into our tactical concept. Everyone is enthusiastic about it, it's a lot of fun," said the 62-year-old Icelander.
Golla plays a central role in this. The model athlete, whom co-trainer Erik Wudtke had given the nickname "Kampfsau" before the European Championship 2020, was one of the few bright spots in the German team at the botched World Cup in Egypt at the beginning of the year and the failed Olympic medal mission in Tokyo in the summer.
Now we are looking ahead. "We all have to develop the desire for the national team again, so that everyone wants to come here," said Golla. As the captain, he himself wants to set a good example: "The DHB team is a great team. I want to give my teammates a good feeling and take everyone with me. It is very important that everyone finds their role and is involved."



www.sport.de