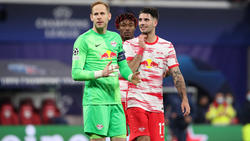 At the very end, the long-term optimist Jesse Marsch lost his facial features. When asked about the performance of the referee, the trainer from RB Leipzig hit the ceiling. "Really from the beginning" March was "angry" with Andreas Ekberg. Because the Swede was a little too respectful of the star ensemble of Paris St. Germain: "In many moments it was as if he wanted Neymar's autograph after the game."
The American's anger focused entirely on the referees. His team, according to Marsch, on the other hand, should certainly draw self-confidence from the hard-won 2: 2 (1: 2) – although this draw shattered all dreams of the Champions League round of 16. It's the old song now, Leipzig's achievements are often right, the results are not. "That makes life difficult for me and us," said the American.
Mediocre in the league, plus no chance in the premier class, even third place in the group and thus the Europa League are a long way off: RB Leipzig is far behind the demands. The late equalizer from a penalty kick from Dominik Szoboszlai (90 + 2) saved at least a small chance of international wintering. In three weeks Leipzig is doomed to win at Club Bruges.
"We make it difficult for ourselves in many situations," said Marsch, summarizing the grueling 90 minutes in which the sometimes wildly complaining coach let his "emotions escalate" and saw yellow instead. As in the bitter 2: 3 in Paris and in the draw in Frankfurt, the German runner-up was below value.
"The situation is that nothing comes easy. We have to fight for everything," said Marsch and soberly summed up after two games against Paris: "We were better in two games, but we only have one point." Marsch's approach is wilder than that of his predecessor Julian Nagelsmann, who had led RB into the premier class semi-finals. March stands for spectacle – what is missing is constancy.
"We could have led 2-0 or 3-0"
Ex-Parisian Christopher Nkunku (8th) made a dream start against PSG, André Silva (12th) missed the one-two shortly afterwards, and the hapless Portuguese failed with a penalty. "We could have been leading 2-0 or 3-0 after just 20 minutes," said midfielder Konrad Laimer, annoyed at the once again poor exploitation of chances.
The guests from Paris then showed how it works: Georginio Wijnaldum (21./40.) Used the first two dangerous scenes in the penalty area to turn the game upside down. As so often, RB lost the wages of hard work.
Before the Bundesliga duel with Borussia Dortmund, which was already a long way off, on Saturday (6.30 p.m. / Sky), the disappointed Leipzigers practiced optimism in the spirit of march. "We fought a lot, now we've rewarded each other a bit for the first time," said Laimer: "Now it's time to stick with it."



www.sport.de