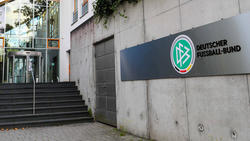 The DFB breathes a sigh of relief, but parts of the fans are angry: With the confirmation of the common practice in dealing with misconduct in the stands, the Federal Court of Justice (BGH) has caused heated emotions. The German Football Association (DFB) may continue to impose fines on clubs if their supporters misbehave in the stadium. The BGH in Karlsruhe decided on Thursday and rejected a complaint from the regional league club Carl Zeiss Jena.
The DFB's approach does not violate public order, it said. Fines are to be classified "as a preventive measure" and do not constitute "a penalty-like sanction", rather they should "ensure the future proper gaming operations", ruled the BGH. Clubs should be encouraged "in the future to use all means available to them in order to have a moderating effect on their supporters and thus to prevent future rioting by the audience".
The DFB sees its opinion "fully confirmed", as interim president Rainer Koch announced. It was "conclusively and unequivocally ensured that the DFB judicial bodies on the one hand continue their work without restriction on the basis of the guidelines for the work of the DFB control committee," he said, "and on the other hand, they have the support and participation of the clubs that are different than the DFB have access to their supporters to ensure trouble-free game operations. "
Appeal against judgment is examined
Because of three pyrotechnics incidents, Jena was sentenced to a fine of around 25,000 euros by the DFB sports court in 2018, the then third division team resisted. The lawsuit before the competent higher regional court was unsuccessful. In the legal and procedural rules of the DFB it is provided that the clubs in the stadium area are liable "before, during and after the game for incidents of any kind".
Jena's managing director Chris Förster was "disappointed" with the verdict. "It already feels like a punishment for us. If it were really available to us as a club as a prevention, we would find it better," he told the "SID": "These fines are for clubs, whether small or large , sensitive and not insignificant. " The club is examining a possible complaint before the Federal Constitutional Court.
"Fatal signal for fan rights"
The umbrella organization of fan aid described the decision as a "fatal signal for fan rights" and sharply criticized it. "This is kin as we know it only from the Middle Ages and clearly shows that distributing collective punishments with the watering can is disproportionate," said spokesman Danny Graupner. Organized fan groups have been protesting against such sanctions for misconduct by individuals for years.
Clubs can have the money for the fines reimbursed by the fans. This emerges from an earlier BGH judgment. To do this, the corresponding viewers must first be identified. We cannot understand that the BGH "also approves the disproportionate passing on of the association penalties to individual football fans," said Graupner.



www.sport.de