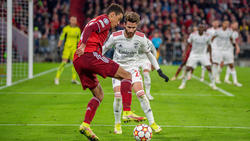 With coach Julian Nagelsmann, who returned from his corona illness, FC Bayern celebrated another significant success in the Champions League. Against Benfica Lisbon, the Munich team won 5-2 and booked the round of 16 ticket. The press reviews about the game:
Portugal
Record: "Benfica's Champions League hopes with two remaining rounds: The decisive game against Barca at Camp Nou. With the defeat in Munich (2: 5), Benfica fell back to third place because FC Barcelona won against Dynamo Kiev ( 1: 0). "
The ball: "Benfica is beaten up by Bayern. Benfica lost in the 4th round of Champions League group E (2: 5) when they visited Munich. It was the Adler's second defeat in a row in this competition. Robert Lewandowski proved himself as the main character of the game. "
The game: "Benfica struck down by FC Bayern, Barca pulls past! Benfica loses in Munich and FC Bayern advance to the round of 16. Benfica lost at FC Bayern two weeks after the 0: 4 with 5: 2 and gave them second place in Group E. Champions League, while Bayern are already in the round of 16.
Newspaper: "Adler crushed by the merciless German machine. Benfica suffered a heavy defeat against Bayern Munich (5-2) from another dimension."
Public: "Bayern are chasing Benfica in Munich! Lewandowski scored three goals, provided an assist and even missed a penalty. Bayern 'destroyed' Benfica, who were beaten and now have to fight for survival in the Champions League in Barcelona."
---
---
England
Sun: "What a hot bride! Lewandowski breaks the records of Ronaldo and Messi with his hat-trick – 81 goals in 100 Champions League games."
Daily Mail: "Lewandowski scores the next hat trick in his 100th appearance in the Champions League, while Bayern qualify for the knockout round. After two weeks without a coach and a bitter bankruptcy, Bayern are back on the road to victory."
Spain
Sports world: "Bayern rolled over Benfica again, giving Barca air to breathe. The Portuguese faced the fight in Munich, but were beaten again as they were in their own stadium and are now three points behind the Catalans."
AS: "Lewandowski is great! No matter when you read this: Lewandowski has already scored another hat trick. Bayern qualify for the round of 16 without losing points. The Pole was the main protagonist in his 100th game in the Champions League."
Austria
Kronen newspaper: "Lewandowski is astonishing: 'Another sport'. It simply cannot be stopped! With a three-pack in the 5-2 spectacle against Benfica Lisbon, Robert Lewandowski shot FC Bayern Munich into the last sixteen of the Champions League. 'That is someone else Sport you play, 'said ex-striker and TV expert Mario Gomez. "
oe24: "'Lewa hat-trick in 5-2 win against Benfica: Bayern & Juve get early round of 16 tickets. Bayern remain invincible in the group stage of the Champions League – star striker Lewandowski does Benfica single-handedly at home, also thanks to his triple pack, the Munich team early in the CL round of 16. "
---
---
Germany
kicker: "Triple pack for the anniversary: ​​Lewandowski leads Bayern early into the second round: FC Bayern are already in the last sixteen of the Champions League after four group games. The German record champions scored five nice goals against Benfica Lisbon – three of them by anniversary boy Robert Lewandowski."
image: "Lewandowski shines and laughs away at Haaland's question: With the boss, dream goals fall like an assembly line at Bayern! 5-2 against Benfica Lisbon, the early qualification for the knockout round of the Champions League."
Spiegel: "The coach is back, the strengths and weaknesses remain: Julian Nagelsmann was back in the dugout after his corona infection. Against Benfica he saw dream goals, but also defensive turbulence. Robert Lewandowski showed an extraordinary 100th Champions League game."
Southgerman newspaper: "Out of the kitchen, into the next 5: 2: When Julian Nagelsmann returns to the sidelines, Bayern qualify early for the Champions League round of 16 against Benfica. They struggle at first – and shine towards the end of the game Dream gates. "
ntv: "Lewandowski shakes the Champions League: he FC Bayern marches on with merciless dominance through the Champions League. Four wins and 17: 2 goals are absolutely right for the title. In the 5: 2 against Benfica Lisbon, Robert Lewandowski delivers the really big show. Nevertheless, they also occur familiar problems again. "
RTL: "Love and appreciation from all sides: Robert Lewandowski shakes the Champions League with a goal gala. Jubilarian Lewandowski was the outstanding player in Bayern's early entry into the last sixteen of the Champions League."



www.sport.de