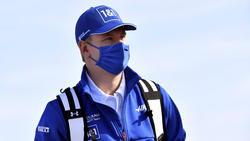 Mick Schumacher only follows behind in Formula 1 in his first year. One day the 22-year-old wants to drive for titles.
The blue flag in front of your eyes, the hasty competition in the rearview mirror – Mick Schumacher has long since got used to his fate in Formula 1.
The 22-year-old does his laps without a chance in the defeated Haas in his premier season in the premier class, lapping is the norm. That won't change at the Mexican Grand Prix on Sunday (8:00 p.m. CET).
That's why Schumacher doesn't push frustration. The motivation is unbroken, the career is only just picking up speed – and should lead to titles at some point.
He has the chance to work his way up, "in order to ultimately be in a position in which I will hopefully sit in the fastest car and drive for the world championship," said Schumacher in an interview with the "Motorsport-Magazin.com" portal.
This is still a dream. Haas had declared the current season to be a transition year, the rookie drivers Schumacher and Nikita Masepin (Russia) should learn. Schumacher is satisfied with his personal development.
"I think I'll work off the right points that I have to work on in order to be strong next year," said the 2020 Formula 2 champion: "Hopefully, this whole evolution that I'm currently doing will shut me down the driver who will then be able to drive for championships in the future. I know that I can drive for championships. "
"… Then you are part of the problem"
In the background, Haas is concentrating on work on the 2022 racing car. Then a comprehensive new set of regulations takes effect – and the backbench team wants to move into at least midfield. In the long run, that's not enough. Schumacher will probably have to leave the US team at some point. The first point of contact is Ferrari, in whose funding program Schumacher matured and which father Michael once formed into the best team in the world.
The status quo is sobering, but it also has advantages for Schumacher. "Who wants to be part of a team that starts well and ends badly? Then you are part of the problem," said Schumacher: "You would much rather bring a team up with you and leave it better than you found it. I think that nobody really comes in and can win the championship in the first year. It's a process. "
This has been positive for Schumacher so far. He has now completed 17 races, 14 times he was ahead of his team-mate Masepin, and in qualifying duels it was 15-2. "He's a very good driver, he's shown that all year," said team boss Günther Steiner last time.
Even in Mexico, Schumacher can only prove it on a small scale. Another victory in the team duel, a good performance in qualifying, a successful overtaking maneuver – these are Schumacher's goals. The blue flag comes soon enough.



www.sport.de