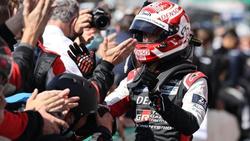 Kazuki Nakajima will be the regular driver for Toyota for the last time at the 8 Hours of Bahrain. The 36-year-old revealed on Wednesday ahead of the season finale that he will not be part of the Toyota driver squad for the 2022 season in the World Endurance Championship (WEC).
The former Formula 1 driver is tight-lipped when it comes to his future. A role off the track at Toyota Gazoo Racing Europe is possible. However, nothing has been determined yet.
Toyota recognizes Nakajima, who has been a regular driver for ten years since the LMP1 project began in 2012, as a "top driver, trustworthy team-mate and loyal friend. Although his WEC career is coming to an end, Kazuki will always be part of the Toyota WEC- Remain family. The team hopes that he will continue to contribute to the development in the future. "
Nakajima himself says: "Of course there is a bit of sadness involved in not participating in the races. But I am already looking into the future. I am sad, but at the same time also positive. We are still talking about what we can and do next year see what I can do here in the WEC. "
"I do believe that I can still achieve something as a racing driver. But you never know, I haven't decided yet." It is possible that Nakajima will again compete full-time in the Japanese top series Super GT and Super Formula. "It's not decided yet, but part of the plan."
Successor likely to be Ryo Hirakawa
Kazuki Nakajima won 16 races over the course of his nine WEC seasons. Twice he felt the full rigors of the Le ans 24 Hours when he retired from the lead with a technical problem in 2014 and 2016. The sporting tragedy of 2016 in particular has burned itself into everyone's mind.
This was followed by three Le Mans victories in a row and the world championship title in the 2018/19 season. "Of the [Le-Mans-] Victory of 2018 is the best memory. '16 was a sad moment, of course. But that was probably the key that ultimately made us stronger for our first win, "he says.
Toyota will announce a replacement for Nakajima-san in December. Ryo Hirakawa is in pole position. The 27-year-old has already completed test drives in the Toyota GR010 Hybrid this year.
Hirakawa was Super GT champion in 2017 and then runner-up three times in a row. In 2020 he narrowly missed the title when he ran out of fuel a few hundred meters before the end. He was also runner-up in the Super Formula in 2020. In this case, Nakajima could theoretically simply take over Hirakawa's role in Japan.
Other possible candidates for the Toyota cockpit are the previous test and reserve driver Nyck de Vries and rally legend Sebastien Ogier. Nakajima's fellow sufferer from 2016, Anthony Davidson, recently announced his complete retirement.



www.sport.de